Border Collie Temperament
Wanting to own a Border Collie Dog and wondering about Border Collie's temperament or characteristics?

There are lots of reasons why you will fall in love with the Border Collie Dogs as they are known for their Intelligent, Energetic, Alert temperament.
Border Collie Dog Characteristics
Intelligent
Energetic
Alert
Responsive
Tenacious
Loyal
Protective
How To Find a Dog With a Good Temperament

Choosing a dog can be both perplexing and exciting. The one thing we all want to know is how our new dog's personality will reveal itself.

Recognizing why a breed was created, and the country and climate it initially came from, can help you understand what to expect in terms of behaviour and temperament.

Some breeds require much more attention than others. A breed's true temperament can also require time to cultivate: the boxer's spirited and extrovert nature means it takes longer to mature than other breeds.

The puppies of particular breeds can be very hard work in the early weeks but can make amazing adult dogs.

There are seven types of dogs:

Gun dog
Toy dog
Utility Dog
Hound dog
Terrier
Working dog
Pastoral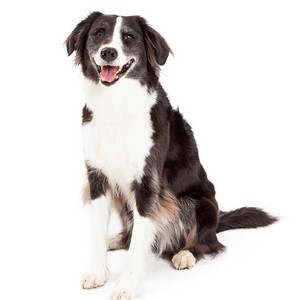 Border Collie Information
This is a medium dog of strong bone, slightly longer than it is tall, combining grace, agility, substance and stamina. Its trot is smooth, ground-covering and tireless, moving with stealth and strength. It is able to change speed and direction suddenly. Border collies must be able to display incredible agility even after working for long periods. The coat can be either smooth or rough. The smooth coat is short all over the body; the rough coat is medium to long in length and flat to slightly wavy in texture. Its expression is intelligent, alert, eager and full of interest, a reflection of its temperament.

The border collie is a bundle of mental and physical energy awaiting its chance to be unleashed on the world. Among the most intelligent and obedient of breeds, it is nonetheless a disastrous house dog if it is not given a challenging job every day. Given sufficient exercise, it is a dependable and loyal companion. It is intent on whatever it does and tends to stare, which can be unnerving to other animals. It also likes to chase other animals. It is reserved, even protective, toward strangers.


What to do if you lose your Border Collie
If your Border Collie Dog or any other pet has gone missing and it does not have an identification tag with a phone number, you can:

1. Register your missing pet details at Pet Reunite website here.

2. Register the lost pet on the Local Lost Pets Facebook Groups Here.

3. Call the local vet clinics to see if someone has brought in your lost pet.

4. Phone the RSPCA or Visit the RSPCA Lost Pets website and complete a Lost Pet Report.

5. Visit Lost Pets Pages of Animal Shelters.
What to do if you find a lost Border Collie
If you find a Border Collie Dog or any other pet and it does not have an identification tag with a phone number, you can:

1. List the found pet details at Pet Reunite website here.

2. Report the missing pet on the Local Facebook Lost Pets Groups.

3. Contact the Local Council to collect the lost animal.

4. Take the animal to the local Animal Pound assigned to your suburb.

5. Take the pet to the local Vet who normally scan the animal's microchip and locate the registered pet owner.
Laws Regarding Missing Pets
1. It is against the law to keep any animal that you find.

2. Pets are generally considered property and it is illegal to take and keep someone else's property.

3. You must call your local animal control unit and file a FOUND AN ANIMAL report for any dog or cat you find.

4. To reclaim your lost dog, cat or other pet from the animal shelter you must pay a release fee.

5. If your dog or cat is unregistered, you will have to register your pet before you can take it home.