Border Terrier Physical Appearance
Wanting to own a Border Terrier Dog and wondering what is the general appearance of Border Terrier or what are the popular colours of a Border Terrier?

Learn more details about the colors, weight and height of Border Terrier Dogs from this page.
Border Terrier Size, Height and Weight
Consider the personality traits and appearance of the Border Terrier, as this breed is not for everyone. Use this information below to see if a Border Terrier would suit your lifestyle and household.

Size of Border Terrier: The Border Terrier Dog is a small sized dog.

Height of Border Terrier:
Male: 13-16 inches (33-41 cm)
Female: 11-14 inches (28-36 cm)

Weight of Border Terrier:
Males 13-16 pounds (6-7 kg)
Female: 11-14 pounds (5-6 kg)
The Popular Colours of Border Terrier Dogs

Blue & Tan
Grizzle & Tan
Red
Wheaten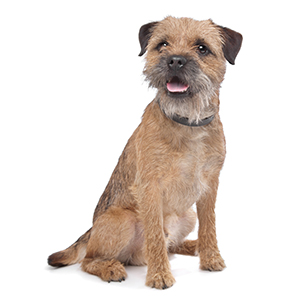 Border Terrier Information
The border terrier is of medium bone, slightly taller than long. Its long legs impart the speed, agility and endurance necessary to follow a horse over all sorts of terrain, whereas its fairly narrow body allows it to squeeze through narrow passages in pursuit of a fox. Its gait displays good length of stride. Its coat consists of a short, dense undercoat covered by a very wiry, straight, somewhat broken outer coat, which should conform to the body. Its hide is very thick and loose fitting, affording protection from the bites of its quarry. The border is known for its distinctive otter head, and its alert expression matches its alert demeanor.

One of the few terriers bred to run with the pack, the border is one of the most amiable and tractable of the group. It is inquisitive, busy, friendly and biddable. It does like to hunt and can be independent, ingredients that make for a dog that may tend to roam if given the chance. It is generally good with other dogs and cats, but not with rodents. It is very good with children and makes a good companion for people of all ages. It digs, and some bark. Some are talented escape artists.


What to do if you lose your Border Terrier
If your Border Terrier Dog or any other pet has gone missing and it does not have an identification tag with a phone number, you can:

1. Register your missing pet details at Pet Reunite website here.

2. Register the lost pet on the Local Lost Pets Facebook Groups Here.

3. Contact the local vet clinics to see if someone has brought in your lost pet.

4. Call the RSPCA or Visit the RSPCA Lost Pets website and complete a Lost Pet Report.

5. Visit Lost Pets Pages of Animal Shelters.
What to do if you find a lost Border Terrier
If you find a Border Terrier Dog or any other pet and it does not have an identification tag with a phone number, you can:

1. List the found pet details at Pet Reunite website here.

2. Register the missing pet on the Local Facebook Lost Pets Groups.

3. Call the Local Council to collect the lost animal.

4. Take the animal to the local Animal Pound near to your area.

5. Take the pet to the local Vet who normally scan the animal's microchip and locate the registered pet owner.
Laws Regarding Missing Pets
1. It is against the law to keep any animal that you find.

2. Pets are generally considered property and it is illegal to take and keep someone else's property.

3. You must call your local animal control unit and file a FOUND AN ANIMAL report for any dog or cat you find.

4. To reclaim your lost dog, cat or other pet from the animal shelter you must pay a release fee.

5. If your dog or cat is unregistered, you will have to register your pet before you can take it home.