Boxer Temperament
Thinking to get a Boxer Dog and wondering about Boxer's temperament or characteristics?

There are many reasons why you will fall in love with the Boxer Dogs as they are known for their Brave, Bright, Confident characteristics.
Boxer Dog Characteristics
Brave
Bright
Confident
Energetic
Fearless
Friendly
Intelligent
Loyal
Playful
How To Find a Dog With a Good Temperament

Choosing a dog can be both perplexing and exciting. But the one thing we all want to know is how our new dog's personality will reveal itself.

Understanding why a breed was developed, and the country and climate it originally came from, can help you understand what to expect in terms of behaviour and personality.

Some breeds require much more attention than others. A breed's true temperament can also take time to develop: the boxer's playful and extrovert nature means it takes longer to mature than other breeds.

The puppies of particular breeds could be very hard work in the early weeks but can make wonderful adult dogs.

There are seven types of dogs:

Gun dog
Toy dog
Utility Dog
Hound dog
Terrier
Working dog
Pastoral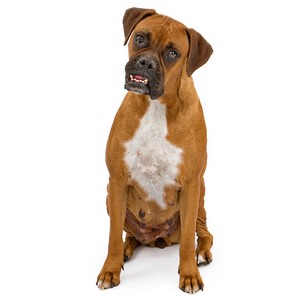 Boxer Information
The boxer is exemplary in its combination of stylish elegance with strength and agility. It is square-proportioned with good substance and musculature. Its stride is free and ground-covering, with proud carriage. Its head is distinctive, with a broad, blunt muzzle and alert expression. Its coat is short and shiny. It is perfectly suited to serve as a working watchdog.

The boxer is playful, exuberant, inquisitive, attentive, demonstrative, devoted and outgoing; it is a perfect companion for an active family. It can be stubborn, but it is sensitive and responsive to commands. It may be aggressive toward strange dogs, but it is generally good with other household dogs and pets.


What to do if you lose your Boxer
If your Boxer Dog or any other pet has gone missing and it does not have an identification tag with a phone number, you can:

1. List your missing pet details at Pet Reunite website here.

2. Register the missing pet on the Local Lost Pets Facebook Groups Here.

3. Contact the nearby vets to see if someone has brought in your lost pet.

4. Telephone the RSPCA or Visit the RSPCA Lost Pets website and complete a Lost Pet Report.

5. Visit Lost Pets Pages of Animal Shelters.
What to do if you find a lost Boxer
If you find a Boxer Dog or any other pet and it does not have an identification tag with a phone number, you can:

1. Report the found pet details at Pet Reunite website here.

2. List the missing pet on the Local Facebook Lost Pets Groups.

3. Call the Local Authority to collect the lost animal.

4. Take the pet to the local Animal Shelter assigned to your area.

5. Take the animal to the local Vet who can scan the animal's microchip and locate the registered pet owner.
Laws Regarding Missing Pets
1. It is against the law to keep any animal that you find.

2. Pets are generally considered property and it is illegal to take and keep someone else's property.

3. You must call your local animal control unit and file a FOUND AN ANIMAL report for any dog or cat you find.

4. To reclaim your lost dog, cat or other pet from the animal shelter you must pay a release fee.

5. If your dog or cat is unregistered, you will have to register your pet before you can take it home.