Bulldog Temperament
Wanting to own a Bulldog and want to know about Bulldog's temperament or characteristics?

There are lots of reasons why you will love the Bulldogs as they are known for their Aggressive, Courageous, Friendly characteristics.
Bulldog Characteristics
Aggressive
Courageous
Friendly
Loving
Social
Sweet
How To Find a Dog With a Good Temperament

Choosing a dog can be both perplexing and exciting. The one thing we all want to know is how our new dog's character will reveal itself.

Knowing why a breed was developed, and the country and climate it originally came from, can help you understand what to expect in terms of behaviour and character.

Some breeds demand much more attention than others. A breed's true temperament can also take time to cultivate: the boxer's playful and extrovert nature means it takes longer to mature than other breeds.

The puppies of specific breeds can be very hard work in the early weeks but can make fantastic adult dogs.

There are seven types of dogs:

Gun dog
Toy dog
Utility Dog
Hound dog
Terrier
Working dog
Pastoral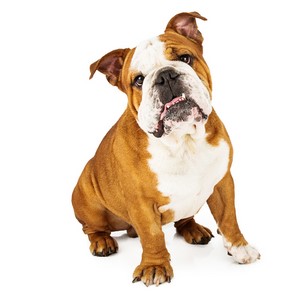 Bulldog Information
The English Bulldog is a wide, medium-sized, compact dog with short legs. The body and head are massive with extra skin on both the skull and forehead falling in folds. The cheeks extend to the sides of the eyes. The muzzle is wide, short and pug with a broad, deep stop. The black nose is broad with large nostrils. The dark eyes are deep set. The rose ears are small, thin and set high on the head. The jaws are massive, very broad, and square with hanging upper lips. The teeth should have an under bite. The tail is either straight or screwed and carried low. The short, flat coat is straight, smooth and glossy. Coat colors include red brindle and other shades of brindle, solid white, solid red, fawn, fallow, piebald, pale yellow or washed-out red or white or a combination of these colors.

Despite its "sourmug," the bulldog is jovial, comical and amiable, among the most docile and mellow of dogs. It is willing to please, although it retains a stubborn streak. It is very good with children. Most are moderately friendly toward strangers. Although some can be aggressive with strange dogs, the breed is quite good with other pets.


What to do if you lose your Bulldog
If your Bulldog or any other pet has gone missing and it does not have an identification tag with a phone number, you can:

1. Report your missing pet details at Pet Reunite website here.

2. Report the missing pet on the Local Lost Pets Facebook Groups Here.

3. Telephone the local vet clinics to see if someone has handed in your missing pet.

4. Call the RSPCA or Visit the RSPCA Lost Pets website and complete a Lost Pet Report.

5. Visit Lost Pets Pages of Animal Pounds.
What to do if you find a lost Bulldog
If you find a Bulldog or any other pet and it does not have an identification tag with a phone number, you can:

1. List the found pet details at Pet Reunite website here.

2. List the missing pet on the Local Facebook Lost Pets Groups.

3. Phone the Local Council to collect the lost animal.

4. Take the animal to the local Animal Shelter near to your area.

5. Take the pet to the local Vet who normally scan the animal's microchip and call the registered owner of the pet.
Laws Regarding Missing Pets
1. It is against the law to keep any animal that you find.

2. Pets are generally considered property and it is illegal to take and keep someone else's property.

3. You must call your local animal control unit and file a FOUND AN ANIMAL report for any dog or cat you find.

4. To reclaim your lost dog, cat or other pet from the animal shelter you must pay a release fee.

5. If your dog or cat is unregistered, you will have to register your pet before you can take it home.