Popular Samoyed Names
Looking to adopt a Samoyed Dog and need to know what is the most popular names for Samoyed Dogs?

Whether your next Samoyed is a female or male, discover the list of funny and cute Samoyed Dog names here.
Common Samoyed Names
Choosing a name for your dog requires a little luck and inspiration and a lot of thought. After all, this is a word you will be saying frequently for years to come.

Can you guess the most popular Samoyed dog names? Some of them might surprise you. Choosing the best dog name, like choosing the perfect dog sitter, is a task that pet parents take seriously.

Luckily, we have rounded up some great options for you. From Allie to Zoey and everything in between, we dug into our database to discover the top Samoyed breed dog names and trends.

The perfect name for your Samoyed dog is out there!

Top 10 Male Samoyed Dog Names

Charlie
Jack
Rocky
Teddy
Lucky
Duke
Cody
Sam
Oscar
Gizmo



Top 10 Female Samoyed Dog Names

Molly
Bella
Ruby
Penny
Lola
Molly
Luna
Dixie
Zoey
Maddie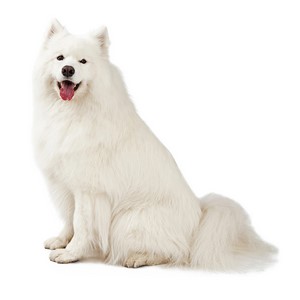 Samoyed Information
The Samoyed combines strength, agility, dignity and grace in a general spitz outline. Slightly longer than it is tall, it is nonetheless compact. It has a strong, muscular body that is able to combine power, speed, agility and endurance. It has a quick, agile stride with good reach and drive. Its double coat is heavy and weather resistant. The undercoat is soft and thick, whereas the outer coat is straight and harsh, standing straight out from the body, and glistening with a silver sheen. Its expression is animated, with the characteristic "Samoyed smile" created by the upturned corners of its mouth.

Gentle and playful, the Samoyed makes a good companion for a child or person of any age. It is a closely bonded family dog. It is amiable with strangers, other pets and usually, other dogs. It is calm indoors, but this clever, sometimes mischievous breed needs daily physical and mental exercise. If allowed to become bored, it will dig and bark. It is independent and often stubborn, but it is willing to please and is responsive to its owner's wishes. It may tend to herd children.


What to do if you lose your Samoyed
If your Samoyed Dog or any other pet has gone missing and it does not have an identification tag with a phone number, you can:

1. Report your missing pet details at Pet Reunite website here.

2. List the missing pet on the Local Lost Pets Facebook Groups Here.

3. Call the local vets to see if anyone has handed in your lost pet.

4. Call the RSPCA or Visit the RSPCA Lost Pets website and complete a Lost Pet Report.

5. Visit Lost Pets Pages of Animal Pounds.
What to do if you find a lost Samoyed
If you find a Samoyed Dog or any other pet and it does not have an identification tag with a phone number, you can:

1. Report the found pet details at Pet Reunite website here.

2. Report the missing pet on the Local Facebook Lost Pets Groups.

3. Call the Local Authority to collect the lost animal.

4. Take the pet to the local Animal Shelter assigned to your suburb.

5. Take the animal to the local Vet who can scan the animal's microchip and phone the registered pet owner.
Laws Regarding Missing Pets
1. It is against the law to keep any animal that you find.

2. Pets are generally considered property and it is illegal to take and keep someone else's property.

3. You must contact your local animal control unit and file a FOUND AN ANIMAL report for any dog or cat you find.

4. To reclaim your lost dog, cat or other pet from the animal shelter you must pay a release fee.

5. If your dog or cat is unregistered, you will have to register your pet before you can take it home.